Yes, hurricane season is back. Unfortunately, this isn't a season of celebrating the tropical drink named after these infamous windstorms. The question on their mind when people thinking about hurricane season is "how bad will it be?"
Would you like to know how good your car and home insurance companies are before the storms start and you can't change to another company? If so, it's easy. Just click the buttons below.
With COVID waning (thank you to drug companies for rapidly producing an effective vaccine), we need a news story replacement. This could be the replacement. Hurricane season starts on June 1. Fortunately, the 2021 forecast looks like we won't have another 2017 or 2020. However, the odds are that 2021 will be above normal.
Sit back and have one of the thirst quenching hurricanes and we will give you both a historical perspective and a forecast.
How bad will this years hurricane season be?
The National Hurricane Center is part of the National Oceanic and Atmospheric Administration (NOAA). The NOAA is a government body. Their mission is to collect and analyze data and share the resulting information about tropical storms and hurricanes. As hurricane experts, there's no better organization to let us know everything we need to know, and maybe a little more, about the hurricane season.
Today, June 1, marks the beginning of a new hurricane season. Unlike other seasons, the hurricane season is five months long. This is a full 67% longer than other seasons. Another difference is that other seasons tend to be fairly consistent. For example, in most places summer is warm for the entire three-month period. Similarly, many places are cold all winter long. With hurricanes, the season builds slowly, then dissipates slowly. See the chart below for more information showing when storms throughout the hurricane season.
The chart from the NOAA above shows that the official response to when is hurricane season is June 1 to November 1. The season starts slowly, followed by a period of rapidly increasing activity beginning in early August. Mid-August to late October is when much of the hurricane activity occurs. However, deadly hurricanes can occur at anytime during the season.
How many Atlantic hurricanes do we usually have per year?
We put together a 50-year history of Atlantic hurricanes to provide some perspective. The chart immediately below shows the number of Atlantic hurricanes per year. This is the number of storms where the maximum sustained wind reaches a minimum of 74-miles per hour (mph), using a one-minute average.


The chart above shows all Atlantic hurricanes per year. Below we have another visual, over the same time period, showing category 3+ hurricanes. Category 3+ hurricanes are measured as a hurricane with sustained winds above 111 mph. Category 3+ hurricanes can produce significant property devastation with roofs blown off, trees uprooted, etc. as well as loss of life. Therefore, it's important to distinguish between all hurricanes and more severe hurricanes.

With that as a historic perspective, let's look at the 2021 forecast.
What will the 2021 hurricane season bring?
Forecasts for tropical storms and hurricanes indicate 2020 will be an above average year for both number a strength of hurricanes. The chart below from the NOAA gives a probability of what the hurricane season will hold.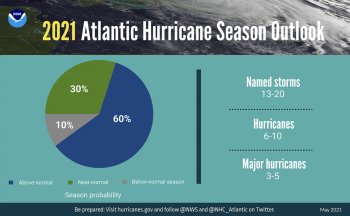 To put this forecast into perspective, 2017 was a bad year for hurricanes. Remember Harvey (in Houston), Irma and Maria on the Atlantic coast? That was a bad year for hurricanes.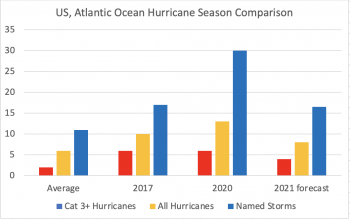 The chart above provides a visual comparison of the average number of hurricanes per year, vs. 2017  and 2020 (both severe hurricane years), vs. the mid-point of the forecast for 2021. The data points above are based on NOAA data. The chart shows 2021 is expected to have a level of hurricane activity between the average and 2017.
The Certainty About Hurricanes
It's difficult to forecast how many hurricanes there will be, or how strong they will be. However, hurricanes aren't entirely unpredictable. The certainty about them is that they will be named, and we know their names in advance. The NOAA chooses and publishes the names. For the 2020 season the names are shown in the table below.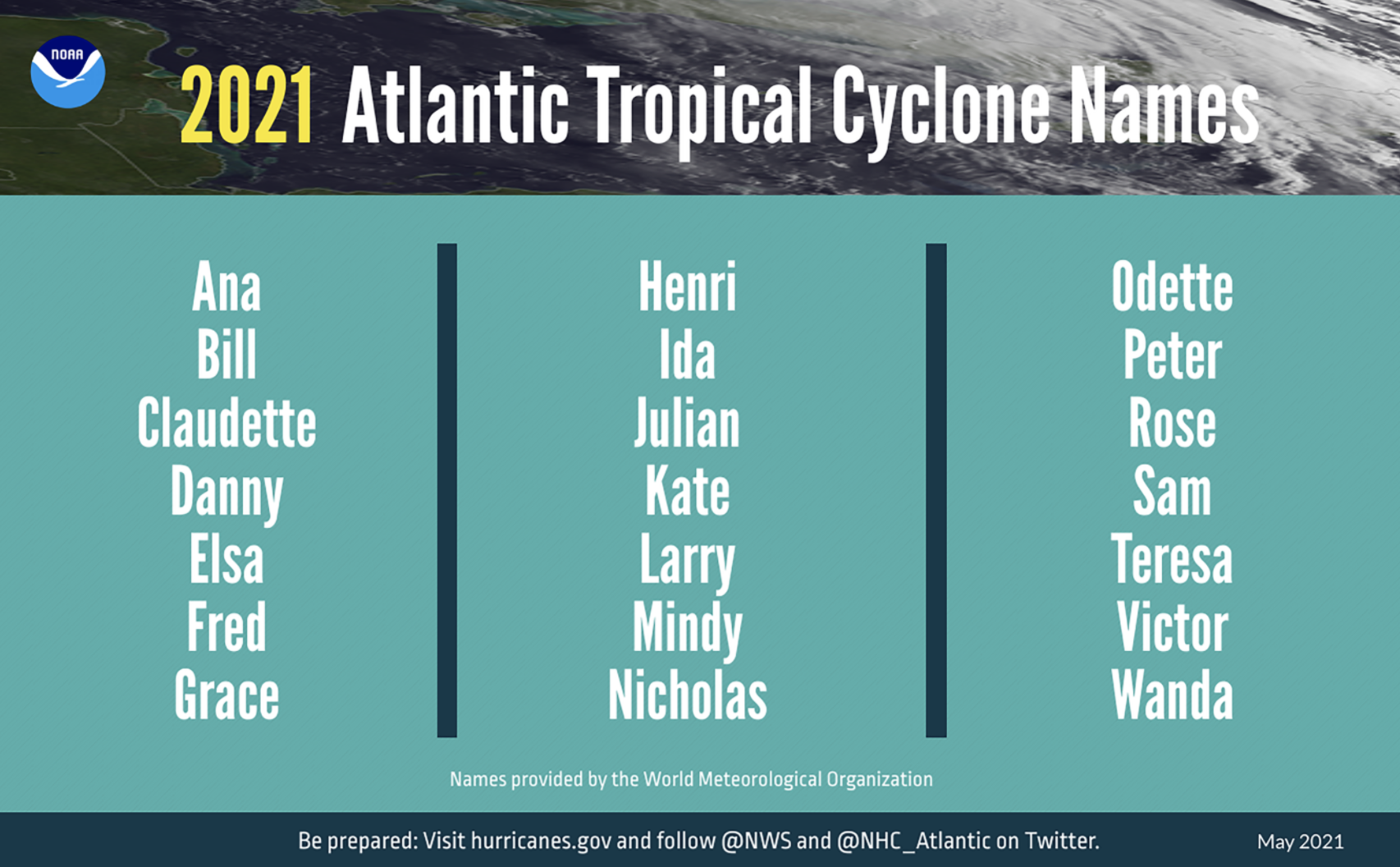 As can be seen, named storms occur in an alphabetical fashion. Arthur is crossed out because Arthur occurred in May. That's unusual to have named storms before the official season begins on June 1.
What does all of this mean for me?
As interesting as the names and forecasts may be, what consumers really need to know besides the obvious "when is hurricane season" is how good is the insurance they are relying on for protection. Having good insurance is important. We often hear people talk about getting cheap insurance. However, it's important to remember, no matter how cheap the insurance was, if it won't pay a claim, it was a waste of money.
There are three important considerations, including:
How good is your insurance?
Do you need flood insurance?
Is wind insurance included with homeowners, or is it separate?
How good is your insurance?
If you got ratings on your insurance above at the beginning of this post and those ratings weren't good, change companies. We make it really easy by publishing the best insurance companies in each state. Just click the buttons below to find the best companies in your state.
Do you need flood insurance?
A very important point for which you need to be aware is that flood insurance may not be included with your homeowners insurance. If you live near the ocean, or an area prone to flooding, you need to consider flood insurance. Your current insurance agent or company can help you find flood insurance, but it's separate and distinct from homeowners insurance. For more detailed information, check out our blog titled "10 Facts About Flood Insurance, Without Drowning in Details."
Is wind insurance included with homeowners, or is it separate?
Homeowners insurance typically includes wind insurance. However, the notable exceptions are largely in hurricane prone areas. In some places, like Hawaii, it's typically completely separate insurance. It's likely even a different insurance company. That said, in most places susceptible to hurricanes — like the coast of the southeastern US — you can get both wind and homeowners insurance from the same company. However, it may not be the same amount of coverage or the same deductible. Be sure to understand the deductible. Not understanding this could cost you tens-of-thousands of dollars. For more information on wind insurance, read our blog post titled, "How to Get Hurricane Insurance Without Getting Blown Away."
Now for the Good News
The good news is we've spent years refining a grading system to let you know which companies are the best, and the system works. Even better news is that there are plenty of good options for companies you can buy excellent insurance from, at a fair price.
We Know if You're With a Good Insurance Company
Even more important than knowing "when is hurricane season" is knowing if you're with a good insurance company. Surprisingly, we're the only company in the industry to analyze insurance companies for how they perform when paying claims. The difference between companies is significant.
The steps you need to take a are minimal. Did you already get a free rating? If not, do it now. If your insurance company scores well, tell your friends and family.
If the company doesn't score well, go to our lists of the best companies in each state and shop with those companies.
Relatively few states are impacted by Atlantic hurricanes. If you're reading this, you likely live in one of those states. Therefore, to make it easy for you to find the best auto insurance companies and best home insurance companies, we've placed links below to the web pages where we list the best auto and home insurers in hurricane prone states:
2021 hurricane season forecast data collected from the NOAA website. NOAA is a division of the National Weather Service.
Note: ValChoice does not receive any form of compensation from insurance companies for rating them. Our analysis is independent and unbiased.