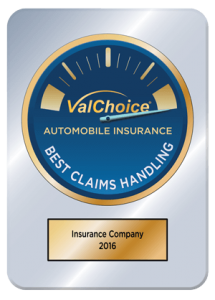 The "Best Claims Handling" award is based on the claims handling score across all states where the company does business. The medallion is customized with the company name, the year the award was earned and the actual Claims Handling Score. This award applies only to the automobile insurance line-of-business.
To win this award, companies are compared to all other companies in the industry. Only the best companies, as proven over a multi-year period, are recognized with this award.
Companies that earn this prestigious award display it prominently in their print and media advertising as well as on the company website. This is because the ValChoice "Best Claims Handling" award is the most reliable metric for determining how well companies perform in delivering on their promise to protect.
About the ValChoice Grading System
ValChoice is independent and unbiased. We collect high-quality data and use sophisticated algorithms to grade  insurance companies. The algorithms are developed with complete independence from the insurance industry. Our analytical approach to grading insurance companies is the most complete, most accurate and most reliable approach in the industry.
The transparency this grading system provides helps consumers identify which insurance companies are are worthy of their business. From an insurance company perspective, this transparency helps the best companies compete without the necessity of expensive advertising campaign.
Participating in the ValChoice awards program has no bearing on the selection process. All companies selling insurance are included in the analysis, in each state where they actively sell insurance. Companies that license and display these awards get no preferential treatment in the award selection process, or in the information we make available to consumers in our reports.

"ValChoice, a data analytics company that aims to bring some transparency to the opaque insurance industry."
-Gretchen Morgenson


ValChoice is "Carfax for...insurance"
-Giovanni Rodriguez
Recent Posts