Every year car insurance prices go up? Why? Most of us drive the same car, year after year. We drive the same number of miles. We don't even have accidents or tickets. It seems that safe driving doesn't offer much benefit when it comes to the cost of insurance.
Want to see how you benefit from safe driving? It's easy. Use the ValChoice car insurance calculator. When you enter the driving record, change it to includes tickets, accidents and even drunk driving. You will see exactly how much benefit you can expect based on your safe driving. Just click the button below.
How much will safe driving save me?
Here are some rules of thumb you can use. These examples are based on liability coverage of 100/300 with collision and comprehensive insurance. In each case, the percentage is how much not having this incident on your record will save you. In effect, this is your safe driving discount:
One speeding ticket – approximately 6% savings
An at-fault accident including bodily injuries – approximately 15% savings
One accident, property damage only – approximately 15% savings. Drivers will liability insurance only will save less than this amount.
A conviction for reckless driving – approximately 40% savings
Convicted for driving while intoxicated – on a first offense this is treated similarly to reckless driving.
Does my insurance company reward safe driving?
Unfortunately, how insurance companies charge for insurance is hard for consumers to decipher. That's one reason why we built the car insurance estimator. Enter your situation into the calculator and compare the price from you insurance company. See below a screenshot of the page where you can enter driving record information.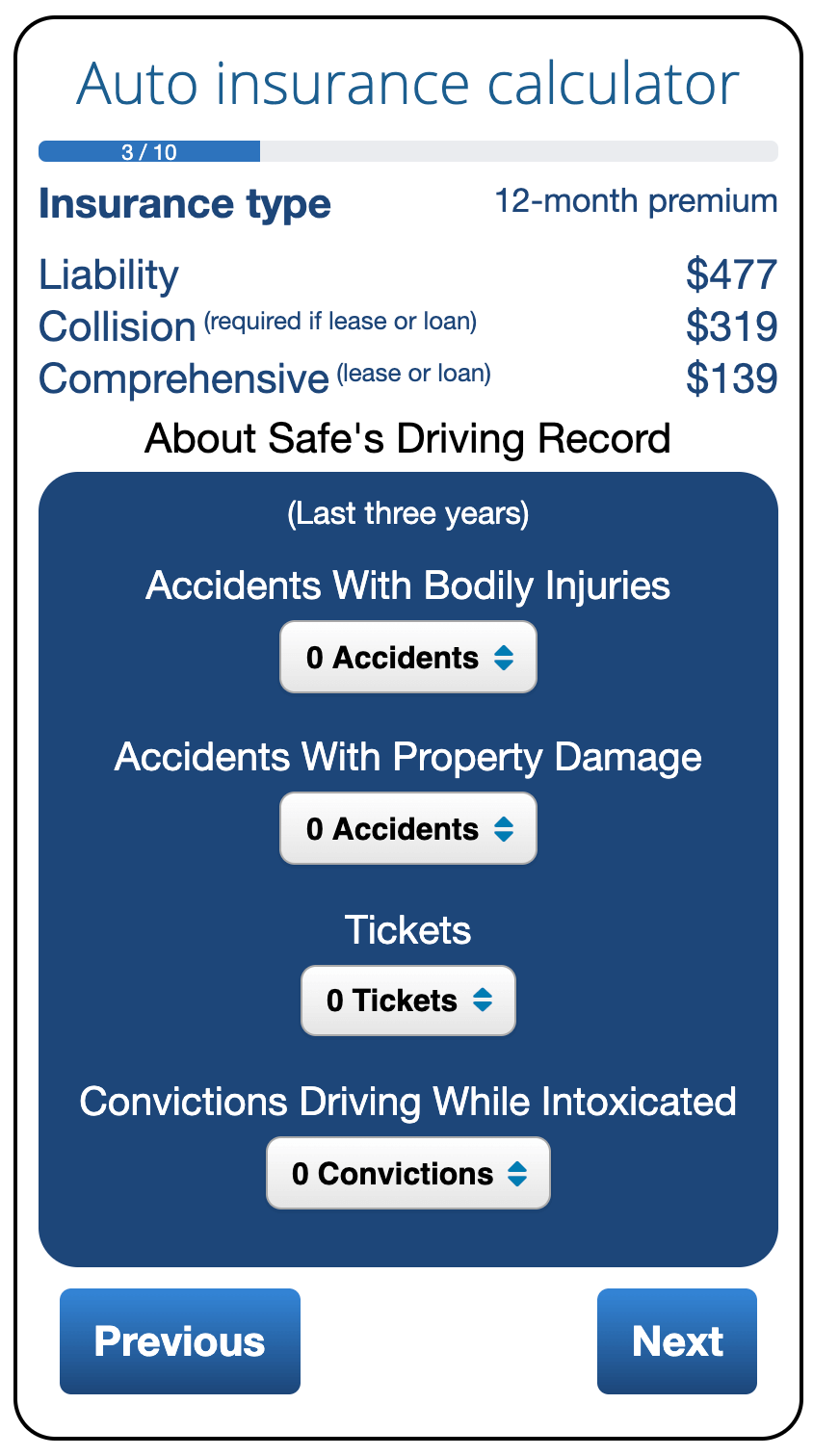 With each entry you can see how the calculation varies. This not a car insurance quote. ValChoice does not provide quotes for insurance companies. However, the quote from your insurance company should be reasonably close. If not, you need to understand why.
The Problem Most Drivers Face
The common problem drivers face is rapid rate increases. For example, an insurance company that wants only safe drivers, may raise rates a bit too much after one incident. However, after two incidents, they may raise rates an exceptionally large amount. Hence, instead of just dropping you, they charge an excessively high price. In this situation there are really only two options:
See if you can improve your record through driving school
Change insurance companies to a company that doesn't charge such high rates for a low risk driver that had a couple incidents.
The Often Overlooked Point About Insurance
Quality. The car insurance industry spends a lot of money each year sending consumers messages about how they have the best price. In fact, the three largest car insurance companies, State Farm, GEICO and Progressive spent $4.8 billion on advertising last year. Yes, you read the right. Almost 5 billion dollars. Truly shocking and frankly, a bit disgusting the your insurance policy money is being spent to get more customers.
Before buying insurance from any company, check to see what level of quality they offer. We like to say, "no matter how cheap the insurance, it was a waste of money if the company doesn't pay a claim."
You can check the quality and value of any car insurance company by clicking the button below and getting a free ValChoice rating.
If your insurance company rated well, tell a friend. If not, change companies. Changing companies is easy. Just click the button below. We list the five best car insurance companies in each state. Get quotes from these companies.