When people find out we rank insurance companies on price, protection (claims payment) and service, they always ask the same question: "which are the best car insurance companies?" As the infographic shows, there's no simple answer to that question. One of the reasons this question is difficult is because most companies vary significantly from one state to another. Therefore, we find ourselves answering their question with a question. Our question is, "where do you live?"
We listened and learned that people want to know which insurance companies are good, and which are not. Therefore, a website that shows people what different insurance companies are like is exactly what we developed. Now we're doing one better than that. To help every person that drives a car find the best car insurance, we are publishing our analysis of the best companies. See the attached infographic to find the best car insurance companies in your state. Click here to subscribe to our newsletter.
Finally, Big Data Helping Consumers get the Best Car Insurance Companies
Until now, big data wasn't available to consumers of insurance. Big data was only available to insurance companies. Now that has all changed. ValChoice collects and analyzes the millions of data points needed to identify which companies provide the best auto insurance.
It's True, Big Data for Free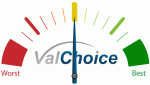 Not only do we collect and analyze the data, we make it easy to understand. The gauge to the left shows an average company. Anybody with a gauge where the needle is to the left of center should find better insurance. Best of all, everyone can get a ranking for free.
This is important information. Many people are surprised to learn that companies with large advertising budgets are overcharging and under protecting their customers. There's a reason for that. If the money is being spent on advertisements, it's not available to protect policyholders.
The Best Car Insurance Map
The good news is that this is a problem that is easily solved simply by providing consumers information on how to choose insurance companies. Our map that is attached to this post lets you easily find the best auto insurance company in your state. We also have the "ValChoice Award Winners" page on our website under the "For Consumers" menu that lists the best car insurance companies, by state. Most states have several good companies selling auto insurance. To get the names of multiple companies, get the Best Car Insurance Ratings Report or Compare Car Insurance Ratings Report. These reports grade two or four companies (respectively) so you have more options to choose from.
Click here an get your free report now. If your company is below average, move to a better company.Whether your company is good or bad, tell your friends and family about ValChoice so they can find out about their insurance company.