Safety features like air bags, anti-lock brakes and remote engine shutoff can qualify you for discount auto insurance. Click on the calculator below to find out how much savings you can expect.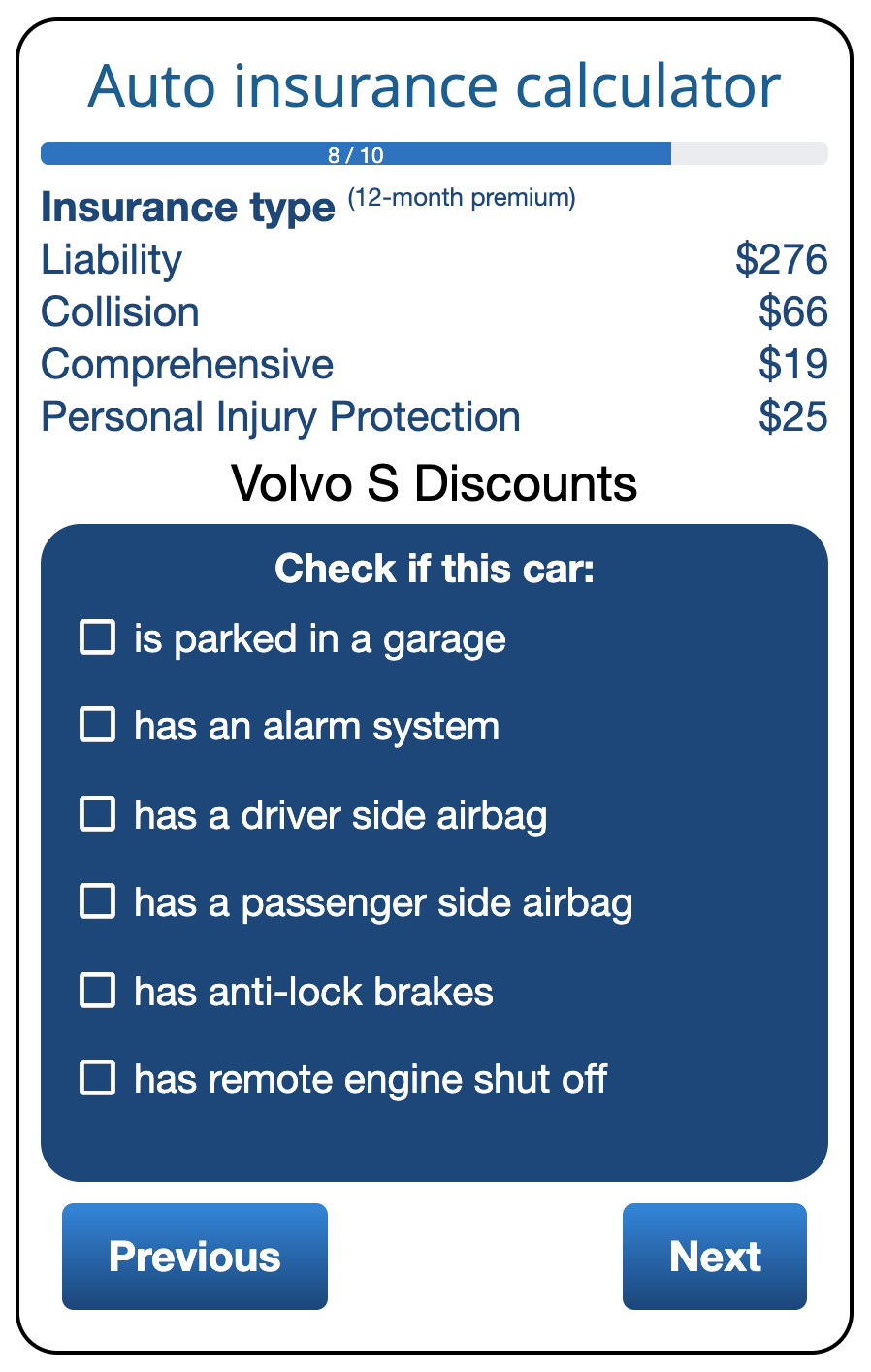 How do I get discount auto insurance?
The image shows the calculator page where discounts are calculated. The calculator is interactive so you can see the insurance price estimate change as you select the features which apply to your vehicle.
Select the features above which apply to your vehicle
Click the items above that apply to your vehicle. While clicking, watch the calculated estimates change. The amounts will change according to the formulas that most insurance companies use when calculating discount auto insurance rates.
Not all discounts apply to all types of insurance. For example, an alarm system typically offers a discount on comprehensive insurance. Alarm systems generally don't provide discounts for liability or collision insurance.
Now that you understand how vehicle discounts work, check to make sure you're getting the discount auto insurance rates that apply to you. You can do this by checking your insurance declarations page. Alternatively, you can call your insurance company. Discounts have a way of disappearing off of policies with some insurance companies. Making sure your discounts don't disappear will help you mange insurance costs.
Are there other discounts that may apply?
There are other discounts that may apply. For example, below is a list of additional factors that could help you get discount auto insurance rates include:
Marital status
Home owner – buying your home and auto insurance from the same company
Multiple vehicles
The ValChoice Car Insurance Calculator
ValChoice is focused on helping people with insurance by delivering transparency into what has been an opaque industry. After doing a detailed analysis of insurance prices, we found the price variations to be extreme. Shockingly, comparing the exact same coverage, person, car, etc across different insurance companies can result in a 20x difference in price. Across seven common scenarios we tested, we found an average of an 8x difference.
We immediately recognized that consumers need a fair, unbiased, free service that lets them know what is a fair price for insurance. That's what our car insurance calculator does. Try it out. Tell a friend about it.
The ValChoice Video Education Series
In addition to the car insurance calculator, ValChoice produced a series of educational videos. You can find them free-of-charge on the ValChoice Youtube channel. Here's the specific on safety features impacts the cost of car insurance.
Hopefully, this helps you make a more informed insurance buying decision.