A tornado warning usually comes with only one days warning. This means now is a good time to make sure both your home and your homeowners insurance are up to date. This post covers the steps to take to make sure you're ready before the next tornado warning
Start by getting a rating on how good your insurance company is for claims handling, service and value. Just click the buttons below.
What should I do before I get a tornado warning?
Tornado season in the south is March through May. In the southern plains it's May through June and along the gulf coast, March through June. Before you get your first tornado warning of the season, make sure both your home is ready. Just as importantly, make sure you have the right homeowners insurance company. Once a warning comes out, insurance companies will not allow you to open a new policy. That means you're stuck with whatever you already have.
Make sure you have good homeowners insurance. There are significant differences in how well insurance companies perform when it comes to paying claims. Know the behavior of yours. If the free rating you got above wasn't good, just click the buttons below to find the best insurance companies in your state.
Steps to Take to Ensure You're Prepared
To make sure your home and property are prepared, take the following steps:
If you live in an area that floods, have comprehensive insurance on your cars and flood insurance on your home.
Have a complete list of contents for your home. The list should include images and value estimates.
Know the condition of your roof. Does it have known problems that could cause it to leak during the next storm?
What to do if you Need Different Homeowners Insurance
There are a couple ways to find the best homeowners insurance. Shop with the companies named on the best insurance companies lists above. If contacting companies directly is more work than you want to put in, use the ValChoice service for finding an insurance agent local to you. Agents listed on ValChoice.com all represent some of the best insurance companies in the industry. In fact, we only allow agents to be represented on this site if they represent companies that qualify as award winning companies. To be an award winning company, the insurance company must have a ValChoice score of 68 or better in the most recent year.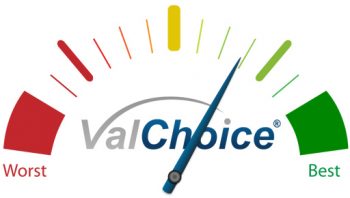 Click the button below to find agents that represent companies with a ValChoice score of 68 or better (the fuel-gauge-style image above represents a ValChoice score of 68. To achieve this score, insurance companies must have excellent claims handling.
Specific Items to Check on for Your Homeowners Insurance
Whether you get better insurance, or already have good insurance, be sure to know the following:
Is wind damage included on the homeowners policy, or is it a separate policy?
How are wind damage claims paid?
For example, would the roof be repaired or replaced?
Is the full cost reimbursed or only a depreciated amount is paid?
Is flood damage covered, or is flood a different policy?
Want to know a fair price for your insurance? Use the ValChoice insurance calculators below.