Do you have the luck of the Irish? If you drive a car, you might need it this week. Several of the most dangerous days of the year for driving a car are this week.
You don't need the luck of the Irish to pick the best insurance company. To find the best, start by ignoring the advertisements. The billions of dollars spent on advertising are not an indication of how well companies perform when paying claims. Instead, click the button below and get a free report from ValChoice. We're the only company to use data from state insurance commissioners that identifies which companies are best about paying claims.
The two days that are in the top ten for the most dangerous days are the start of daylights savings time and Saint Patrick's Day. However, the five days in between aren't much better. If you're driving a car this week, be careful.
The reasons these days are dangerous are entirely different. Read on for more information on just how dangerous this week is for driving, and why.
The Start of Daylight Savings Time, #2 Most Deadly Day to Drive
Yahoo News writer Mark Vallet[1] looked at the holidays that have the most impact on traffic fatalities. The conclusion of Yahoo News was that the Monday after the start of Daylight Savings time is the number two most deadly day to drive. The only holiday more deadly is Memorial Day weekend.
However, this is not a one-day event. Researchers at the University of Colorado[2], Boulder researched the effect of Daylight Savings time. The study covered the ten-year period from 2002 to 2011. The conclusion was there was a 6.3% increase in fatal auto accidents. That's not all. It gets worse. According to the study, this increase in fatal accidents persists for six days. In total, the report concluded that during the 2002 to 2011 time period the start of Daylight Savings Time was responsible for an additional 302 traffic fatalities.
This year, six days after the start of Daylights Savings time leads directly to Saint Patrick's Day. Saint Patrick's Day, like other holidays, is known for good time, often accompanied by imbibing in alcohol.
Will You Have the Luck of the Irish on Saint Patrick's Day?
Referring again to the Yahoo News article, writer Mark Vallet found Saint Patrick's Day to the be the tenth mostly deadly day for driving. The NHTSA study over the period from 2009 to 2013 found that 276 people were killed over the Saint Patrick's Day holiday. That equates to almost two out of every five car fatalities on Saint Patrick's Day were a result of drinking and driving.
According to AVVO Stories[3], the problem is even worse. AVVO stories lists St. Patrick's Day as one of the four worst days of the year for fatalities while driving. Whether 4th worst or 10th worst, the luck of the Irish isn't something to count on. Instead, create your own luck by planning ahead. A designated driver is a great way to create your own luck of the Irish.
Traffic Fatalities Over the Course of the Full Year
The rate of traffic fatalities during the second week in March is concerning. However, is this indicative of the full year? We set out to answer that question. To find the answer, we checked data published by the NHTSA.
What we found is that traffic fatalities are increasing. After many years of trending down, the trend has changed. The chart below shows the year-over-year change. Negative percentages indicate a reduction in the number of traffic fatalities.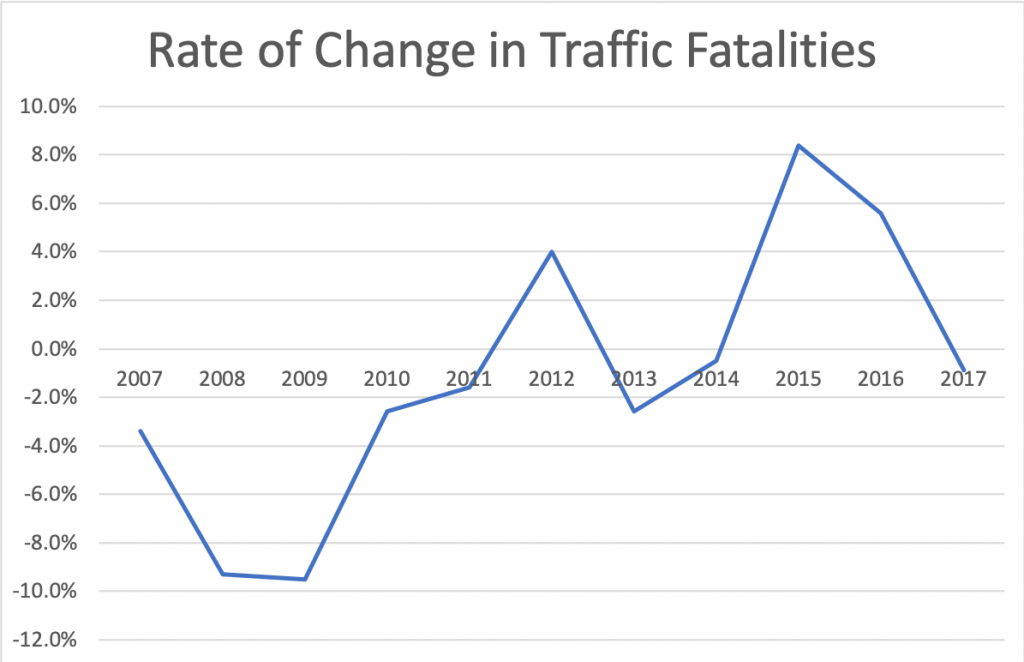 Source: U.S. Department of Transportation, National Traffic Safety Administration (NHTSA). Data republished by the Insurance Information Institute[4] . This chart shows the trend since 2009 has been an increase in traffic fatalities. Fortunately, in 2016 and 2017 that trend reverses.
What Can Drivers Do?
Most importantly, try to stay off the roads at times when there is a high percentage of drunk drivers. This includes all major holidays, late at night and weekends.
From a community activism point of view, responsible citizens need to advocate for more punitive measures when people drink and drive. Driving to a zero tolerance level for driving impaired may be necessary. Also, lawmakers need to begin to recognize the impact of marijuana on impaired driving and apply similar measures, independent of what causes the impairment, to protect people.
Measuring Insurance Quality
Most accidents do not include fatalities, but are a nuisance. Whether a nuisance or a serious accident. Having good quality insurance is important. What many people don't know is that the quality of he insurance they buy is primarily based on the company from whom they buy. Unfortunately, the quality of the insurance is not described in the policy. Instead, product quality is based on the culture of the insurance company. Some companies offer excellent protection. Some don't.
Consumers have had no visibility into this as an issue. In fact, most consumers have no idea where to go to get information on the quality of the insurance they buy.
At ValChoice we believe that know the quality of your insurance is important. Insurance is the last line of defense for most families. If an insurance company refuses to pay a legitimate claim, many families will be forced to file bankruptcy. Having personal experience with insurance companies that refused to pay legitimate claims, I set out to prevent this problem from impacting other families.
Taking Protection a Step Further
Take the steps necessary to protect you and your passengers now. Order a free report from ValChoice. If your insurance company scores well, tell a friend. Consider this pay it forward move as a way of bringing the luck of the Irish to your fiends and family.
Conversely, if your company scores poorly, switch companies. Once enough consumers begin switching to the best insurance companies, the poor performers will change the way they do business. Start by simply ordering a free report on your auto and home insurance companies.
Note: ValChoice does not receive any form of compensation from insurance companies for presenting them as a good option in our car and home insurance reports.
[1] Yahoo News, Mark Vallet, https://www.yahoo.com/news/10-worst-days-for-driving-118807974462.html
[2] Spring Forward at Your Own Risk: Daylight Savings Time and Fatal Crashes, October, 2014, Austin Smith, https://www.colorado.edu/econ/papers/WPs-14/wp14-05/wp14-05.pdf
[3]http://stories.avvo.com/crime/dui/6-holidays-with-crazy-high-dui-rates.html
[4] Insurance Information Institute, https://www.iii.org/fact-statistic/facts-statistics-highway-safety
Summary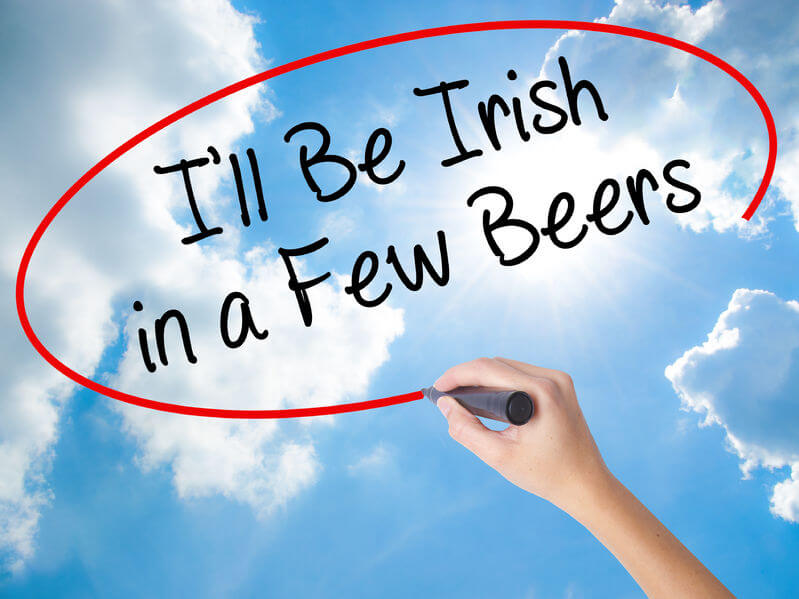 Article Name
Will The Luck of The Irish Get You Home Safely on St. Patrick's Day?
Description
Do you wish you had the luck of the Irish? If you drive a car, you might need it this week. The week leading up to Saint Patrick's Day is one of the most dangerous times of the year to drive. Find out why, and what you can do to protect yourself - ValChoice
Author
Publisher Name
Publisher Logo