Isn't it great dreaming about a new, shiny, fast, expensive car? After the year we've had in 2020, who doesn't want to get out on the open road and just drive? Drive anywhere. To a movie. To a restaurant for dinner. Oh, yeah, we still have a pandemic. Maybe just drive. Nowhere in particular. Just get out of the house.
Then you might think, "how much is car insurance for a new car?" Well, here's hope for getting the brand new vehicle you want. The good news is that the price of the car doesn't have as much impact on the price of the new car insurance as most people think.
Let's go crazy. Dream up your most exotic vehicle: Lotus, Maserati, Porsche, new mini van, whatever you want. Next click the button below to find the cost to insure that new vehicle.
How much more does new car insurance cost?
Just for fun, and to make an extreme example of new car insurance compared to old car insurance. For the old car I used my 19-year old 3-series BMW. For the new car I used a 2019 Maserati Quattroporte. There's no comparison between these cars. The Maserati is worth about 40 times as much as my old, worn out BMW. Also, if you want people to look as you drive by, Maserati is the clear winner. Based on my home address, here's the difference in cost to insure. These cost estimates are before discounts such as insuring multiple cars, insuring a home with the same company, safety features, etc.
The ValChoice car insurance calculator is interactive. Therefore, as you enter data you will immediately see the calculations change. Good news. That means you can checkout the cost to insure all of the dream cars you have planned for your dream garage.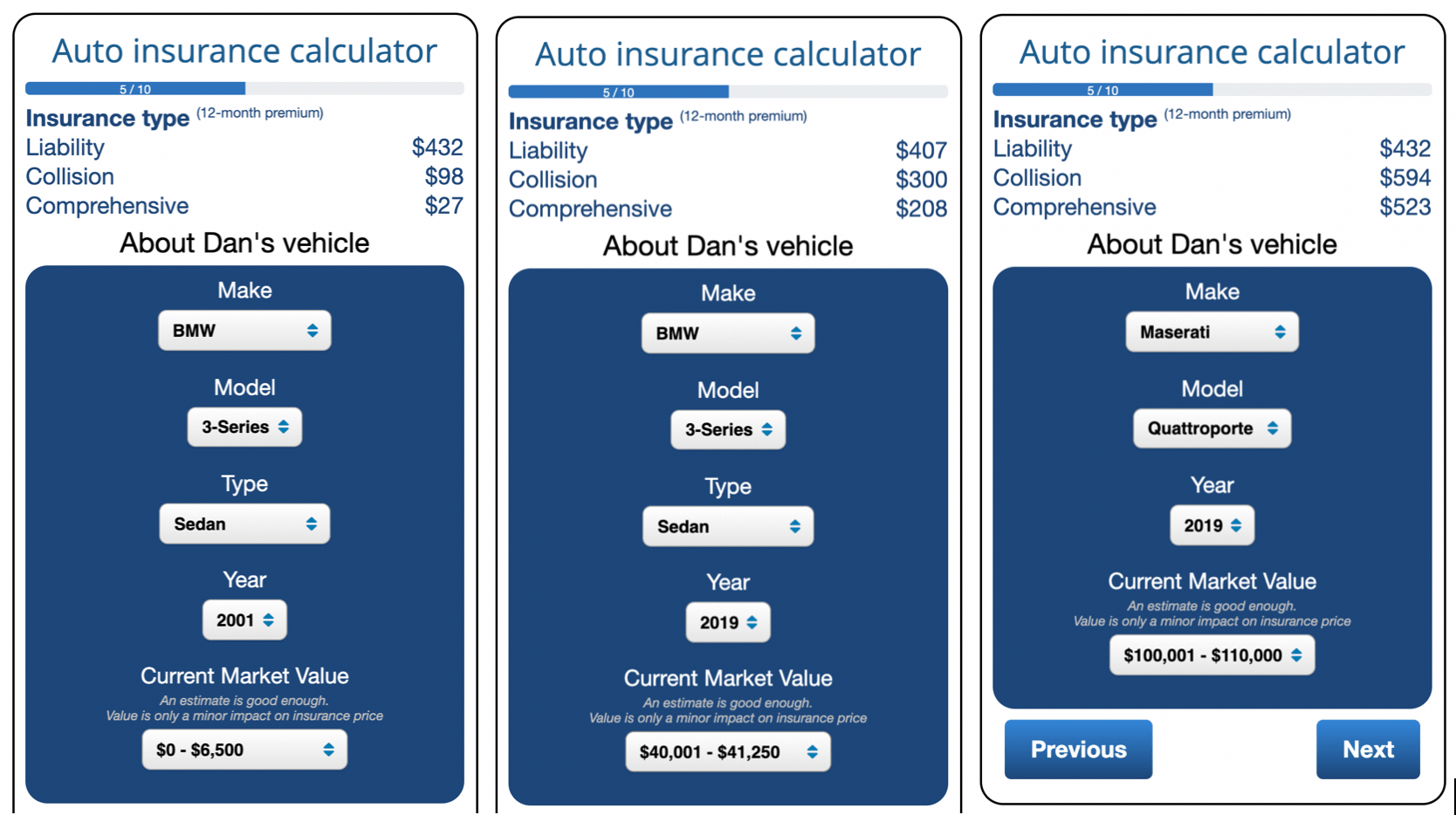 You can see the numbers at the top of the image above. Liability insurance is exactly the same for the old BMW and the new Maserati. The new BMW is $25 per year less. Collision and comprehensive insurance is different though. The Maserati is $500 more for collision than the old BMW and $300 more than the new BMW. Comprehensive is also $500 more for the Maserati when compared to the old BMW. Compared to the new BMW, comprehensive is $300 more.
In total, the Maserati is only about $1,000 more than the old BMW and $600 more than the new BMW. Both of these numbers are before discounts. Since discounts are applied as a percentage, the Maserati will come down the most and the new BMW the second most. If we ran this all the way through the calculations, the Maserati would probably be only about $600 more per year more than the old BMW and $400 more than the new BMW.
Before Shopping for a New Car
You now know that new car insurance is dependent on the value of the vehicle, but probably not as much as you expected. Therefore, there's no need to get too worried about the cost to insure a new car. That said, if you have teenage drivers and they're driving your car, use this tool. Even if they're not driving your car, teen drivers can still have a signifiant effect on insurance prices.
Importantly, before making a major change like getting a new car, check to see how good your car insurance company is. Most of the companies that advertise on TV aren't that great. Take the time to find good insurance for your family and your nice car. We make it easy to find out how good your insurance is. Just click the button below for a free rating. We've included the button for a free home insurance rating too.
If the ratings came back good, tell a friend. If not, find the best insurance companies where you live on our best companies pages. Just click the buttons below.
Odds are, you haven't heard of most of our "best companies" before. That's because they don't advertise. They focus on doing a good job for their customers.
The ValChoice Car Insurance Calculator
ValChoice is focused on helping people with insurance by delivering transparency into what has been an opaque industry. After doing a detailed analysis of insurance prices, we found the price variations to be extreme. Shockingly, comparing the exact same coverage, person, car, etc across different insurance companies can result in a 20x difference in price. Across seven common scenarios we tested, we found an average of a 5x difference. Think about that. You could pay $1,000 or $5,000 for the same insurance. Most shocking, the company charging $5,000 may well be worse at handling claims and customer service.
We immediately recognized that consumers need a fair, unbiased, free service that lets them know what is a fair price for insurance. That's what our car insurance calculator does. Try it out. Tell a friend about it.